Presto started as a high-rise building maintenance services company in Atlanta, Georgia.
Years of servicing a wide variety of commercial buildings affected by difficult to remove stains on the glass, metal, and stone surfaces led us to a shocking conclusion
.
The only solutions available involved the use of harsh chemicals that hardly worked, were short-lived, and were
potentially
dangerous to the applicator
.
We also discovered that many of the products and techniques
commonly
used in the industry
were outdated
. In fact, many products and techniques actually
caused
problems instead of solving them. There was an evident lack of products and information in our industry.
Presto Restoration Products, Inc.
was formed to conceptualize, create, and manufacture the first complete line of products that address the complicated issues involved in maintaining
multiple
architectural surfaces on commercial buildings
.
Presto has invested years of research and development, in finding solutions for the many different types of stains that develop on architectural surfaces
. The end result is a company unlike any other in the industry.
Presto is well-versed in the restoration and preservation of every type of architectural surface
.
Presto is the first to provide solutions for glass, metal, stone, and specialty composite materials

.
Our high-performance line of products sets the bar for being
environmentally
safe by utilizing the newest chemical technologies available
.
Presto's products and techniques work
harmoniously
to protect the exterior of commercial buildings, and create long-lasting results
. This means a greater return on investment and a decrease in future maintenance costs.
Judah Clark, Founder/CEO of Presto Restoration Products & Services, Inc. is dedicated to the building restoration and maintenance industry. Over the past two decades, with the development of the services of Presto Property Services Inc., he has supervised hundreds of cleaning, restoring, waterproofing and preservation projects involving nearly every type of building surface including glass, metal, and stone. In an effort to provide the best result possible, Mr. Clark rigorously tested all of the available products and techniques on the market. He used these experiences as the foundation for his research, and created the first complete, and synergistic, product line in the industry. Through fair pricing and high-quality results, we have always earned our clients' loyalty and trust.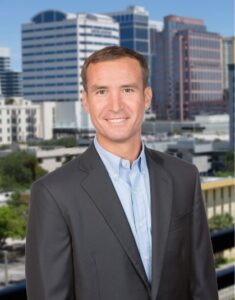 Justin McGarty, COO, Chief Operations Officer of Presto Restoration Products & Services, Inc. is an expert in the field of exterior building restoration and maintenance. In his leadership role at Presto Property Services Inc., Justin has spent the majority of his career understanding and facilitating the restoration of every type of commercial high rise building surface. He is familiar with the entire process of project management and ensuring the satisfaction of every client. Through the years, Presto utilized all available products and techniques for exterior building cleaning, restoration and preservation on the market but without complete satisfaction. Having experts like Justin on our team allows us to maintain a line of products that can restore and protect multiple architectural surfaces on high-rise commercial buildings with a warranty that is unsurpassed in the industry.
Tom Bickley, a PhD chemist, has over 35 years experience as Vice President of Research and Development for companies like Selig and Zep. Dr. Bickley has personally overseen the creation of more than 300 products produced for large corporations. In 2004, Judah Clark joined with Dr. Tom Bickley to create a line of products designed to address the complicated issues of cleaning, restoring and protecting the finish of multiple architectural surfaces on high-rise commercial buildings. We now utilizes the most recent advancements in chemical technology to clean, restore and protect any exterior architectural surface.  
A Special Thanks to Dr. Walt Thomas and Southern Polytechnic State University for allowing the use of their facilities and equipment in order to verify the effectiveness of our products.
Presto's revolutionary products are now sold internationally. With their new and improved service specifications, one 150,000 square feet of Class A office building can save in excess of $255,000 over a 10-year period. This can be achieved by eliminating unnecessary services through Presto's proven and long lasting high performance product line while keeping the buildings' exterior in its original intended appearance for years. An entire portfolio could save millions and increase revenue while keeping the building looking new and aesthetically Class A for years to come.