One Riverfront Place is located within walking distance from Newport, Kentucky with a great view of Cincinnati, just across the Ohio River. Representatives from the property found our solution to glass, metal and stone restoration through internet research, and were able to see the value in our competitive pricing and aggressive protective treatment warranties.
We were able to restore severely stained windows and frames with the Glass ReSurfacer System and EnviRestore MSR (Metal Stain Remover). After restoration Glass Defender MD and Metal Protector MD were applied to the newly-restored materials. The precast was chemically cleaned with Stone Restore HD and protected with Leach Stop Mineral Leaching Mitigation Treatment. This combination of protective treatments effectively coats the entire building in high-performance silicone in order to help maintain a clean, stain-resistant appearance for years to come.
This work was done as a caveat to a new tenant entering contract to lease out a portion of the building. The work was contracted in mid-September, and was required to be complete by December 31 per the lease agreement. We were able to allocate the necessary crews, due to our flexible company infrastructure and present the work for approval by December 2, almost a month ahead of schedule.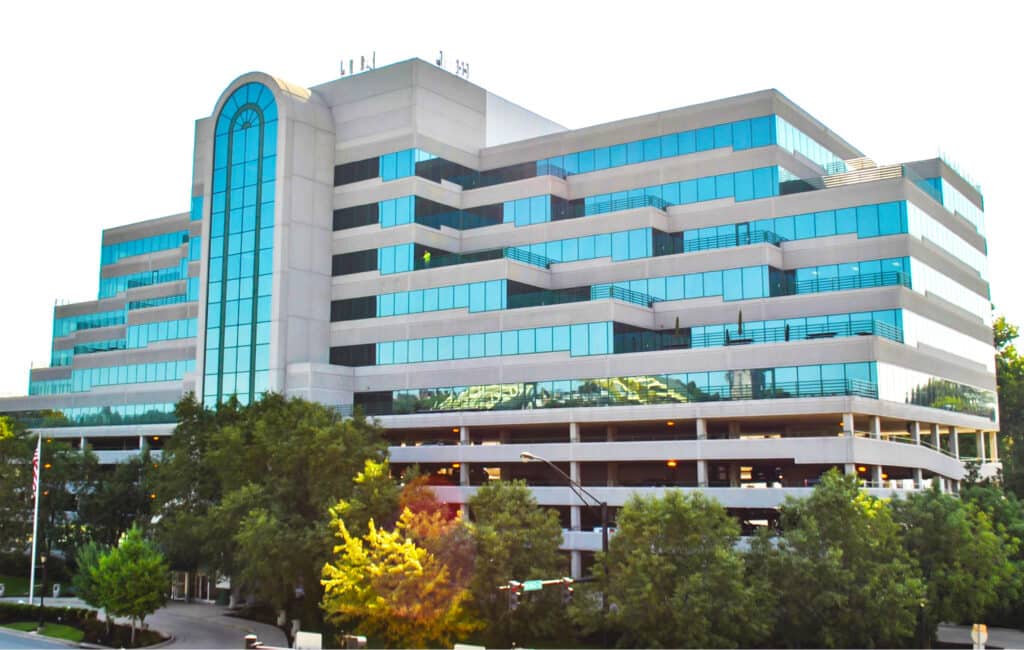 In 2014 Presto Property Services was contacted when other contractors were unable to restore the windows and frames on this beautiful two building property. Upon our site visit, we recommended The Glass ReSurfacer System and demonstrated the results for Nicklies Development, the building owners. In addition we recommended Leachstop instead of the 40% silane which was planned during the clean and seal process. Presto Property Services was awarded the exterior restoration as a result of successful demonstrations at the site, and in consideration of our competitive pricing. Nicklies Development needed the work completed within a tight time frame in order to clean the exterior façade and list the fully leased building for sale. We were able to meet their deadlines and provide exceptional restoration results for severely damaged architectural materials.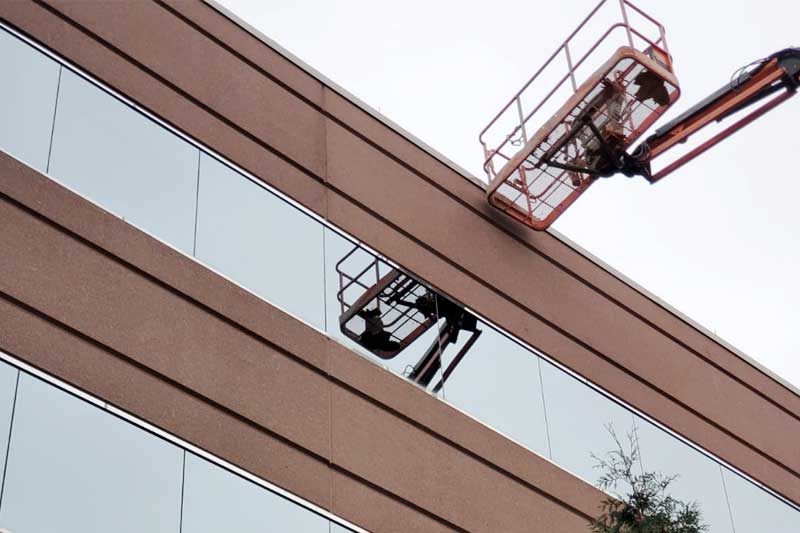 Charlotte, North Carolina
In September 2015, Presto Restoration Products and Services completed an extensive cleaning and waterproofing project for the Hampton and Hilton Hotels located in downtown Charlotte, North Carolina. It was completed in combination with interior renovations, and due to space constraints in loading areas, had to be carefully coordinated. Additionally, the project required special consideration to the local homeowners in the residential towers situated between the two hotels. Presto insured that cars and personal property would be properly stored and protected during the cleaning process so product residue would not affect them.
Presto used a superior product called Stone Restore CB2, designed to remove heavy biological staining. This solution was applied to clean the two buildings' entire exterior as well as the numerous ledges on the building. Dow Corning Silicone caulking was installed at the window perimeters and control joints for both properties. Due to years of water penetration of the exterior insulation and finishing system (EIFS) material, patching and waterproof coatings were applied in several areas in order to carefully match the existing facade.
This project was completed over a period of three months and the property management and guests were more than pleased with the outcome.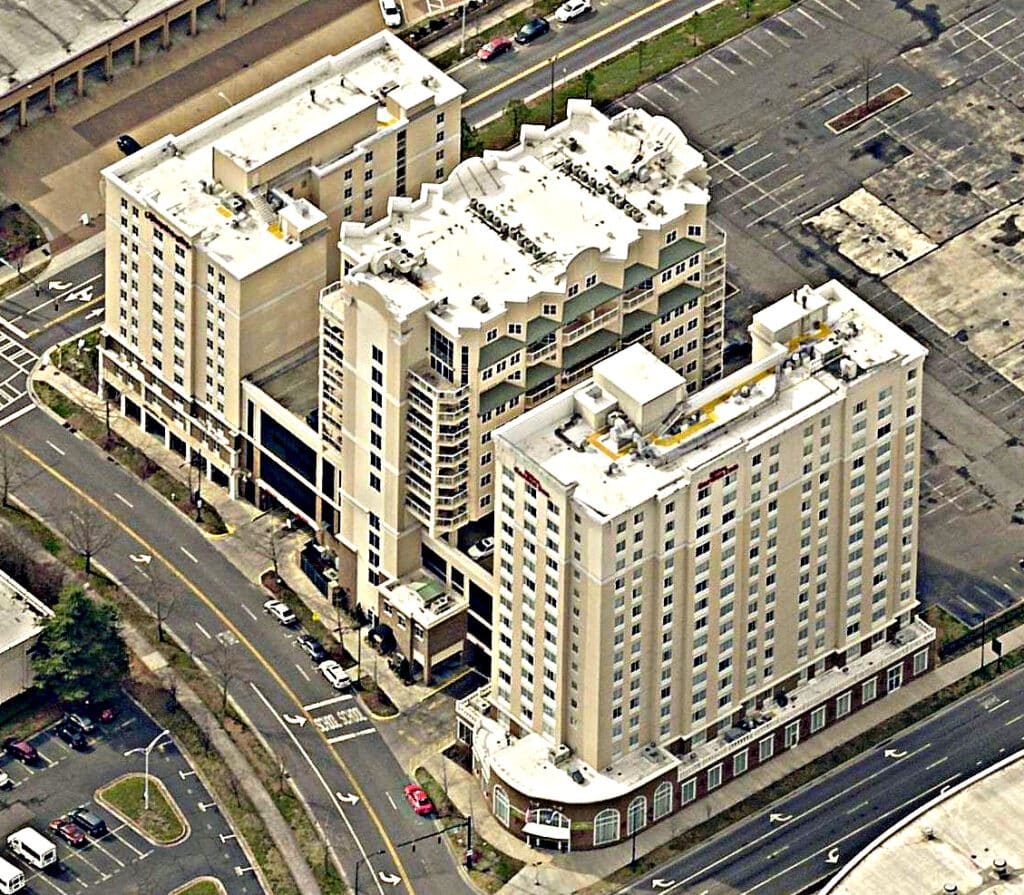 The Turlington Building is an 18-story office building in downtown Tallahassee, FL. The exterior is windows and alucobond metal panels. Decades of heat and humidity took their toll on the building's envelope leaving it stained and covered in grime. In 2007 Presto was contacted to finally remedy the problem and restore this building to it's former brilliance.
We used EnviRestore MSR to thoroughly clean the panels without damaging their original finish. This can be a tricky job on alucobond panels. If not completed properly then the panels will have to be repainted which can be quite expensive. To ensure that the building will look its best for decades to come, the Presto team immediately applied Metal Protector MD. Metal Protector MD is is a waterproof coating that will keep the panels from staining.
To fully clean and remove all the stains from the building's many windows, the team used the Glass ReSurfacer System. The Glass ReSurfacer System utilizes a polishing pad, a specially designed cleaning and polishing chemical, and a high-performance protective coating. The Glass ReSurfacer System has been deployed many time to save damaged windows avoiding the need to replace them. It is a huge cost saver for contractors and building owners.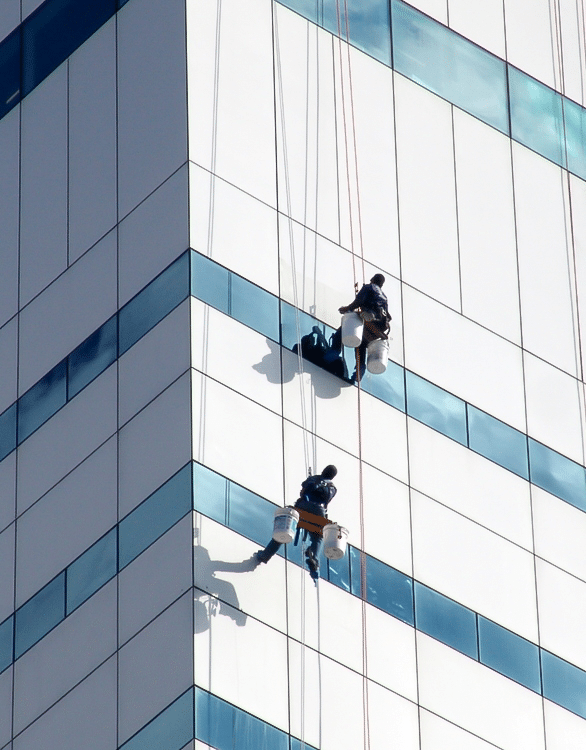 North American Mission Board
September 2015, Presto Restoration Products & Services completed an extensive exterior restoration of the North American Mission Board (NAMB) in Alpharetta Georgia. The entire building's exterior surface, including glass, metal and precast concrete was restored and protected using Presto's uniquely designed product line. Nearly 8 miles of caulking on the structure's joints was replaced using Dow Corning 757 SMS "stain-resistant" silicone caulking. The building's glass, metal and precast surfaces were restored as well and covered the distance of two football fields.
Many high-rise buildings are constructed similarly and the windows are typically cleaned in a traditional manner every six months only to develop stains on the glass, metal and precast surfaces within a couple of years after restoration. By maintaining the building's exterior with Presto Restoration Products, the NAMB building can preserve its original appearance and will prevent unnecessary and expensive restoration services from ever being performed again, if maintained properly.
After over a decade of continued use and testing, case-study after case-study proves that Presto's protective treatments and maintenance process allow building facades to remain stain-free.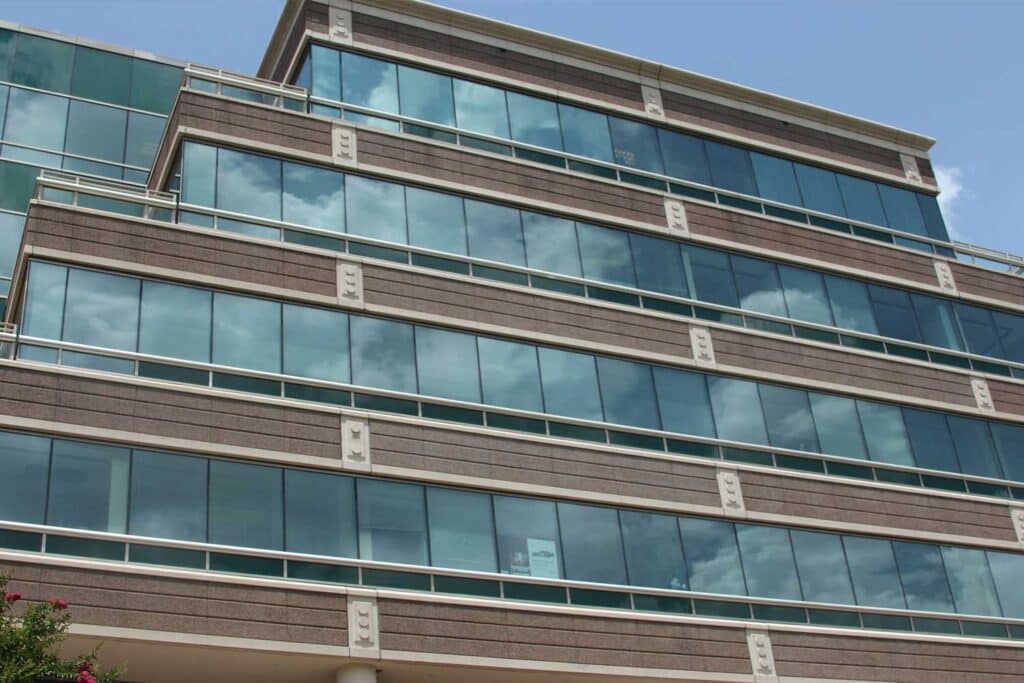 In 2013 Presto Property Services was invited to submit pricing on this impressive facility after a recent purchase by Neyer Properties. Upon receipt of the RFP, Presto provided an alternate Scope of Work using Presto Restoration Products to restore the façade. In 2014 The Glass ReSurfacer System produced spotless results on the vision glass, while EnviRestore Metal Stain Remover made the frames look new again. Leachstop was used on the precast after cleaning in order to help prevent future minerals from leaching out of the precast onto the newly restored window glass and frames.